On Thursday September 25th Shining will perform their international breakthrough album "Blackjazz" from start to end, for the very first time in their career.
On Friday September 26th they will perform last year's veritable hit parade "One One One" from first to last note, along with a set of brand new unreleased songs never performed live before.
There are very limited tickets available, so be quick to grab them while you can!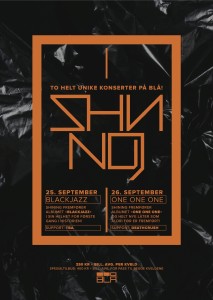 Thursday Sept 25th, Blackjazz Night: 250 kr + bill.avg.
http://www.billettservice.no/event/shining-fremforer-blackjazz-billetter/430645

Friday Sept 26th, One One One + New Material: 250 kr + bill.avg.
http://www.billettservice.no/event/shining-fremforer-one-one-one-support-deathcrush-billetter/430647
Very Special 2 Days Pass: 400 kr + bill.avg.
http://www.billettservice.no/event/shining-2-dagers-pass-billetter/430643